Microsoft Azure Solutions in Dubai
Fajr Tech Guys a well-established Microsoft Azure Solutions in Dubai and a Microsoft Cloud Services Provider. That assists organizations in harnessing the potential of cloud computing without the difficulties associated with maintaining complex IT infrastructure and application platforms on their own. Since the company's founding in 2005, we are now recognized as one of the most successful Azure migration partners in Dubai, has been responsible for the hosting of complicated workloads and the implementation of industry-leading technology to provide superior Managed Services. Additionally, Fajr tech guys has hundreds of clients worldwide and has managed Azure solutions and hosted Microsoft environments for those clients, making us the go-to the choice in the region to manage Azure environments. Microsoft developed Azure with business users in mind from the beginning. We manage Hosting with your needs in mind.
What is Microsoft Azure Solutions
Microsoft Azure, formerly known as Windows Azure, is a public cloud computing platform that includes over two hundred different products and cloud services. Because of the increasingly competitive nature of the business climate, a solution that can quickly manage the countless obstacles that small and medium-sized businesses (SMBs) and large businesses (Enterprises) are up against would make their path easier. You will have an easier time running older apps as well as developing and deploying new applications when you use the cloud server provided by Ms.
Thanks to MS Solution, a cloud or hybrid cloud solution, small and medium-sized businesses can now adopt a cloud or hybrid cloud architecture. It gives businesses access to various tools that may be used to create and manage websites or apps that are either lightweight or multi-tiered. Therefore, small and medium-sized businesses can get powerful computing capabilities at a reasonable cost. Cloud computing frees businesses from the burden of worrying about their infrastructure and investments. In addition, because automates its information technology and operational processes, application creation and maintenance are straightforward and trouble-free. Because it handles all of the tasks on the back end, the development process is the only part of the project that requires your attention. As a result, you'll be able to concentrate on your primary responsibilities and maintain your team's efficiency if you choose Azure as your partner.
The fundamental question to ask is: why should one use Microsoft Azure Solutions in Dubai? MS Azure provides your company with the tools it needs to accomplish the uninhibited expansion. You'll be able to do the following using some of these tools:
• Boost the efficiency of development efforts.
Utilizing it, you may rapidly develop apps from your ideas. The most excellent part is that you may construct applications using any tool, language, or framework you like. Microsoft has developed and Portal that will make managing your applications, services, and resources much more reasonable than possible. Because of this, you will be able to direct more attention to your apps rather than worrying about your infrastructure. The more than 150 Logic App connectors will make it simple for you to connect cloud to your various devices, data sources, and apps. The MS Cloud is the place to give form to your creative visions.
• Hybrid cloud computing can help your company realize its full potential.
The first step in developing an effective cloud environment is establishing a connection between your data center and the cloud. However, the hybrid features make it possible for you to take this to an entirely new level. It gives you the ability to build a hybrid network that is both safe and quick.
• Implement clever solutions
It enables the development of apps that contain both robust data and AI. Azure is included with a wide variety of data and AI services, some of which are the Bot Service and Cosmos, amongst others.
Build bespoke AI models on a global scale. You and your colleagues can construct, test, and manage several AI models in production when using Azure. Construct bots with the ability to engage with people naturally and provide them with full analytics capabilities to assist you in seeing estimates more quickly. And just in case that wasn't enough, it also allows you to enhance your existing open-source applications. When it comes to Microsoft, the possibilities are endless.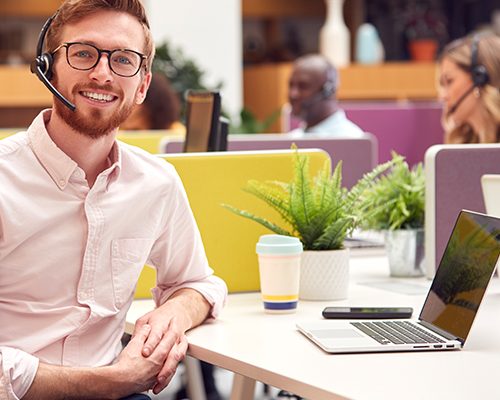 Introducing Variation into Your Dubai Working Environment
Microsoft Azure Solutions in Dubai make it simple for you to bring order and efficiency to your business and provide a tool to help it become more effective overall. Cloud services may be customized to meet specific storage needs and can be made operational through various commercial departments and solutions.
This is the option that is superior to all others when it comes to offering solutions for the cloud that are very flexible and reliable. Our clients in Dubai may take advantage of Microsoft Azure Solutions that we offer. When you go with cloud solutions, you immediately have access to the highest possible degree of safety. We guarantee that we will give your business the most thorough data security and protection solutions possible.
This trustworthy cloud-based service is used by individuals worldwide since most companies are blown away by the capabilities that cloud solutions supply. In addition, you can select the type of cloud solutions you want or, more precisely, the solutions that are tailored to meet your company's specific needs.
What are the advantages of utilizing Microsoft Azure Solutions in Dubai?
Capabilities in both IAAS and PAAS
Infrastructure as a Service (IAAS) and Platform as a Service (PAAS) work hand in hand to create the formidable cloud computing platform known as Microsoft Azure (PAAS). With the help of the IAAS, enterprises can use Microsoft to host their infrastructure in the cloud while only paying for the resources they employ. On the other hand, Platform as a Service (PAAS) allows enterprises to create and tailor their web applications according to their specific needs without purchasing or maintaining the underlying substructure.
Microsoft's pay-as-you-go approach allows businesses to limit expenses to cover what they use. In essence, Azure allows you to load additional resources into a cluster as and when you require them, allowing you to access more resources as and when you require them. This implies that you won't need to invest money on new hardware and IT upkeep when you encounter the desirable periods of high transaction volume because you won't be required to do so.
Because it takes less than twenty minutes to obtain a service customized to your requirements with it, you will never run out of server capacity, even if you have many users.
Data Backup and Recovery in Case of Disaster
Azure is the only cloud computing platform to secure your data better than any other options, thanks to its 50 high-quality compliance certifications and 99-year retention policy. It provides support for backups with a single click for SQL databases and virtual machines operating on Azure. It can restore your data 66% more quickly than an on-premise IT solution if your service is disrupted or you lose data.
Ideal for newly founded companies as well as more well-established ones
Azure was created with every type of company in mind. From the bakery down the street to the largest enterprises in the world. It is easy to scale up to match the demands of your IT department, and it uses a pay-as-you-go pricing approach so that it may accommodate any budget. In-house information technology expenses, such as hardware and maintenance, can be reduced because firms can launch and keep both internal and external apps in the cloud.
Its unrivaled hybrid features set MS Azure apart from its rivals as the industry's most exceptional cloud computing service provider for businesses. They make it impossible for other providers to match. This is well-known for its ability to provide capabilities with easy mobility and a constantly reliable platform between on-premise and public cloud environments. It is powerful enough to provide a wide variety of hybrid services, such as virtual private networks, caches, content delivery networks, and express route connections, all of which instantly increase the usability and speed of the apps.
Compatible with both Linux and Windows
MS Azure provides native support for.NET, SQL, Remote Desktop Services, and other Windows Server workloads, making it an ideal platform for application migration and modernization. Red Hat, SUSE, Ubuntu, CentOS, Debian, Oracle Linux, and Flatcar Linux are just a few of the distributions that are supported by Azure when it comes to Linux.